Bitcoin Price Holds At $26,800 -When Will We Break Out of Consolidation?
Join Our Telegram channel to stay up to date on breaking news coverage
Bitcoin (BTC) price exploded between March 11 and 17, rising almost 40% to reclaim above the critical $25,000 level. Nevertheless, with this ascension, volatility also increased with the result of bullish and bearish participation shown by the green and red candlesticks in the one-day chart below.
Amid the recent volatility in the Bitcoin market, the BTC started to consolidate and move horizontally during the second week of May. This came as Bitcoin price found itself trapped between two clear supplier congestion levels where buying pressure and selling pressure weighed heavily against the price.
Bitcoin Price Suffers Balanced Demand Between Buyers And Sellers, Macroeconomics Inspire Hope
Bitcoin price is suffering the effects of balanced demand between bulls and bears, making them unsure about the next direction of the trend.
As such, it is safe to assume that Bitcoin traders await a potential market trigger that could provoke a decisive push of BTC price in either direction. For example, the United States Bureau of Economic Analysis is set to announce the annualized gross domestic product (GDP) for the first quarter on May 25. This data release, coupled with U.S. durable goods orders scheduled for May 26 to measure the cost of orders received by manufacturers, could catalyze a reaction from BTC as it trades inversely to the dollar (USD).
Moreover, another macroeconomic that could influence Bitcoin price is the tussle surrounding the U.S. debt ceiling, whose talks remained at a standstill after last week. Notably, bipartisan negotiations are in the process of lifting the debt limit, hoping to avoid a U.S. government default ahead of June 1. However, no decision has been made as Republicans continue to demand several reductions in government expenditure as a precaution.
🇺🇸 #US President #Biden has said he will not accept a deal to raise a debt ceiling that protects #Crypto traders & wealthy #Tax evaders.#Jobs #Unemployment #FOMC #USA #USD #Inflation #Interest #Twitter #News #BTC #Bitcoin    #Bank #Dollar #Euro #FED #Memecoinseason2023… pic.twitter.com/ucFRsdkCI2

— Fahad Faqeeh (@FahadFaqeeh65) May 21, 2023
Analyzing The Odds Of Bitcoin Price Upside
We must first establish certain things to understand the odds of BTC breaching the $29,000 level if the macroeconomic environment permits. The first is to determine whether there is any similarity between the Bitcoin derivatives market structure and the period around early April. According to experts, there is little resemblance between the bullish breakout recorded in early April and the current status of the Bitcoin futures premium.
Secondly, one must also analyze options markets to establish whether the recent correction inspired a new wave of optimism among investors. In this regard, experts identify that traders flirted with excessive optimism on March 30 before reverting to a neutral stance by April 10. The same experts describe this state as the ideal positioning for a surprise rally.
Conversely, the latest range trading period beginning May 13 showed balanced pricing between the call and put options. This perfectly reflected the level of uncertainty among traders amid unstable macroeconomic conditions.
Based on the outlook described above for Bitcoin options and futures markets, there appears to be little to no resemblance to early April, when Bitcoin price terminated its 11-day low-volatility period. At the time, BTC soared 8% when it moved from $28,300 to $30,800 in under 24 hours.
Noteworthy, this does not necessarily mean a resembling outcome would be impossible if BTC's current 10-day sideways movement around $27,000 ends up breaking north. Nevertheless, chances of a bullish breakout remain slim, given that Bitcoin options traders continue to price similar risks for upside and downside price movements.
Additionally, Bitcoin futures show that the general sentiment is neutral to bearish, the same case as it was in the last two weeks.
When Will Bitcoin Price Break Out Of Consolidation
Bitcoin price at the time of writing is $26,915, a daily rise of almost 3%. However, the king crypto remains under the bearish foothold of selling pressure due to the 50-day Exponential Moving Average (EMA) at $27,510. Based on the general outlook and supported by several indicators, a downtrend is looming.
In such a case, as selling pressure from the 50-day EMA abounds, Bitcoin price could drop and break below the 100-day EMA at $26,369 before a retest of the March 17 lows around $25,000.
The bearish outlook comes in the wake of the magnetic pull resulting from the Fair Value Gap (FVG) represented in yellow. A Fair Value Gap is created within a three-candle sequence and is commonly visualized on the chart as a large candle whose neighboring candles' upper and lower wicks do not fully overlap the large candle. In this case, the March 12 and March 14 wicks fail to overlap the long candle on March 13. With this vacuum acting as a magnet, BTC could drop 10% into the $24,000 territory before a possible uptrend. Such a move would be ideal, as it would complete the inefficiency or imbalance highlighted in yellow.
Notably, while a brief test such as a candlestick wick dip into the FVG would suffice, Bitcoin price could drop to the $19,989 level in the dire case. This bearish outlook draws support from the Relative Strength Index (RSI) below the midline at 42, showing bears were leading the market. Further, the Awesome Oscillators were also still in the negative zone, bolstering the bearish case.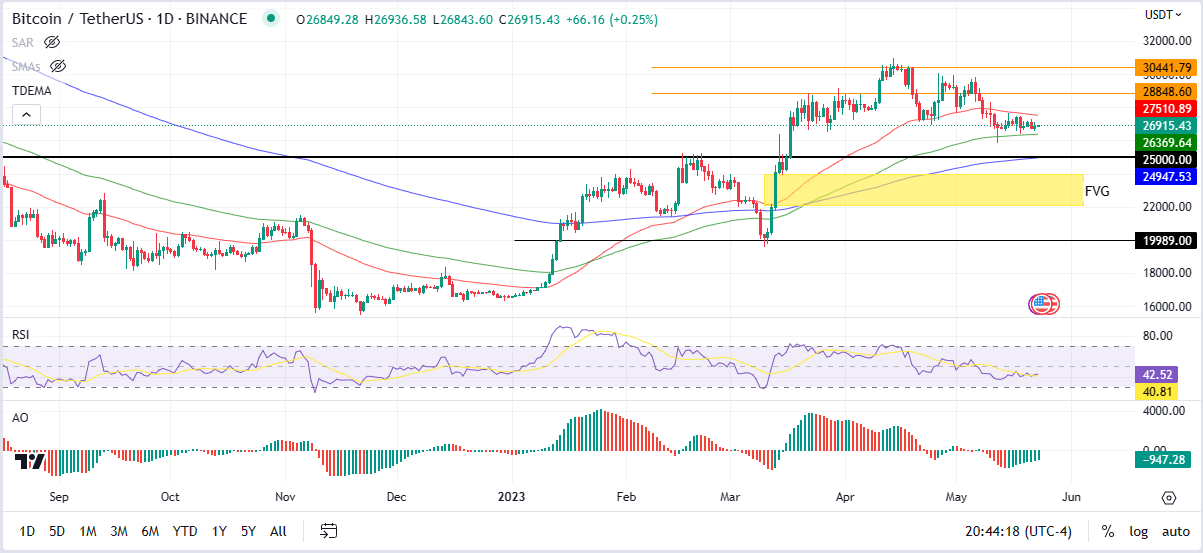 Flipside
Conversely, Bitcoin price had strong downward support and enjoyed buying pressure from the 100- and 200-day EMA at $26,369 and $24,947, respectively. These entry points could catalyze an uptrend for the flagship crypto.
An increase in buying pressure from the bulls could see Bitcoin price breach the 50-day EMA hurdle and tag the $28,848 resistance level. A decisive flip of this barricade into support could pave the way for a further upside toward the $30,441 resistance level. Such a move would denote a 10% upswing from the current price level.
Notice the RSI was tipping upward as the AO drew closer to the midline, indicating more buyers were coming into play and Bitcoin price could increase.
Further, the RSI had just called a signal to 'buy BTC' when it crossed above the signal line (yellow band). Buyers heeding this call could fuel an uptrend.
BTC Alternative
While Bitcoin price looks for a possible U-turn, consider AI, the ticker for the AiDoge ecosystem, which has hit upwards of $11.6 million in presale sales. This completes stage 16 chunk of tokens with only four stages left.
It's official #AiDogeArmy! 🔥

Stage 16 of the #Presale has sold out and we have raised over $11.6 million 🤯💥

Only 4 stages of the presale left! ⏰

Act fast and secure your $AI before time runs out! 😎👉 https://t.co/5j5tt4smcs#MemeCoin #Crypto $PEPE $FLOKI $DOGE $BTC pic.twitter.com/mCykQhyosB

— aidogecrypto (@aidogecrypto) May 22, 2023
With the growing sensation around AI and its potential integration with crypto, AiDoge has sprouted among the newest projects in the space. The AI-based meme project started gaining traction right from its market debut, raising $100,000 on launch day, April 25, 2023. By day 2, the project was already boasting a staggering $200,000 in presale token sales.
At its core, AiDoge is touted as a platform for AI-driven meme generation. Here, users enjoy a versatile and adaptable experience catering to the agile, dynamic, and fast-paced cryptocurrency industry. The trend of this ecosystem tallies with the present generation's needs while maintaining compatibility with social media, the most powerful communication channel today.
AiDoge leverages advanced AI technology so users develop contextually relevant memes depending on the text prompts they set for themselves.
#AiDoge to the rescue! 💪

With our powerful AI meme generation platform, we're here to take over the #Memecoin space.🔥

Say no to meme coins without utility and join the #AiDogeArmy!

Our #Presale is selling out fast 👀⚡️

👉 https://t.co/5j5tt4smcs#MemeCoin $PEPE $FLOKI $BOB pic.twitter.com/NVQZs8vN6q

— aidogecrypto (@aidogecrypto) May 21, 2023
Innovative algorithms trained on extensive meme datasets and cryptocurrency news power the meme generator on AiDoge. This ensures that users receive high-quality and up-to-date memes. Further, the developers have also integrated several other elements to make the project more enticing as a major investment opportunity.
Read More:
AiDoge – New Meme to Earn Crypto

Earn Crypto For Internet Memes
First Presale Stage Open Now, CertiK Audited
Generate Memes with AI Text Prompts
Staking Rewards, Voting, Creator Benefits

Join Our Telegram channel to stay up to date on breaking news coverage